She made her debut as an adult in football at the age of 16, took bronze in the Universiade, played in the national team of Russia. The heroine of today's interview was Maria Galai , the defender of Minsk and an ex-footballer of the Russian national team.
– You came to football when you were 13 years old. In many sections, this is considered to be late. Have you lagged behind your peers? If so, why did you manage to catch up with them?
– I came to football at an earlier age. At the age of 13 I began to achieve my first success. Thank God that I did not lag behind my peers, and even vice versa. I was more often than others were transferred to older groups.
"You come from the city of Omsk. It is far from the center of Russia. In Omsk developed hockey, women's volleyball, and the first successes came to you as part of your native team. Why do you think the sport in Omsk is developed at a high enough level?
"My generation has all the conditions for development. The city helped, opened different sections. Now things are worse in the city. Now the same women's football has descended to another stage of development, there is no volleyball "Omichka". Apparently, everything rests on the financial plane.
– Dmitry Sychov hails from your hometown. Do you know him? And is he an example for Omsk footballers?
"I didn't personally know him. Dmitry rarely comes to his hometown, and we have different interests. Plus he's had a football career, I've had a career, and we're not crossing. Yes, the boys know that we have such a star in the city, and try to level it.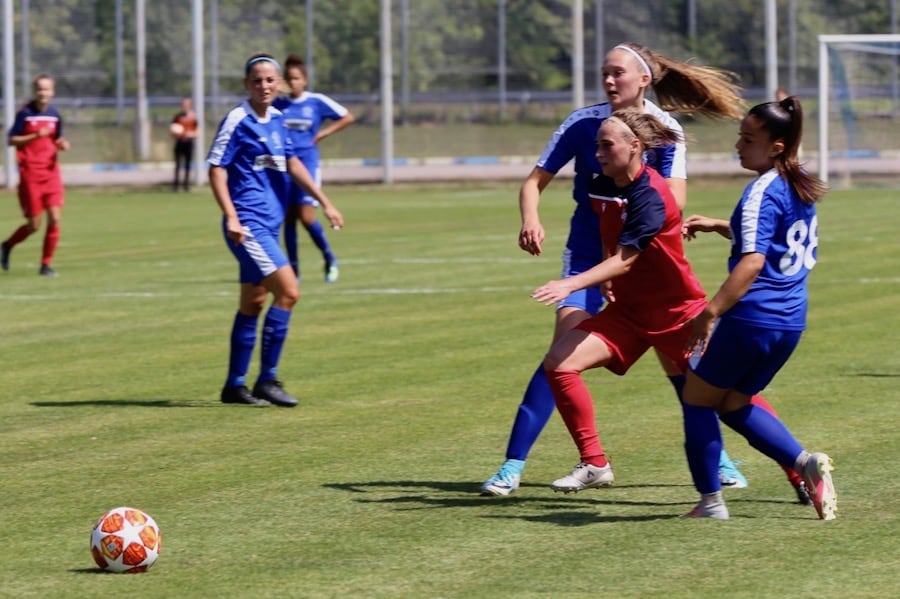 – At the age of 16 you took bronze in the Russian championship. Is such an early debut in women's football a rarity?
No, it's not uncommon. Neither I am the first, nor I am the last who started to play professionally at this age. In women's football, it's a perfectly common thing.
"Do women finish playing earlier than men? Or isn't that always the case?
Not always. Things are different. And it depends on a number of factors: health, desire, family. Some were injured and some were seriously injured. Someone went on maternity leave, and someone came back after it. I know of a number of cases where girls have played after reaching the age of 33. So it's all very individual.
– You play as a defender. In men's football, high-ranking players play in this position. Your height is 161 cm. Is it difficult for you to play against higher football players? And what are you trying to get the better of them?
"Not really. It's hard for them to play against me. We are in different growth categories, which makes my job easier. Often experience is on my side. From this I have a good choice of position, which negates the difference in physical data. Plus I have quite a high speed.
– In Russia, most top teams are not from the capital. Belarus has exceptionally strong teams from Minsk. What do you think this is about?
– Let's start with the fact that Russia is geographically much more and there are more opportunities for strong teams. And even though these teams are not from Moscow or Peter, but, as a rule, these are cities – millionaires, which the village can not name. Almost every city has developed sports sections, and in Russia they are more accessible.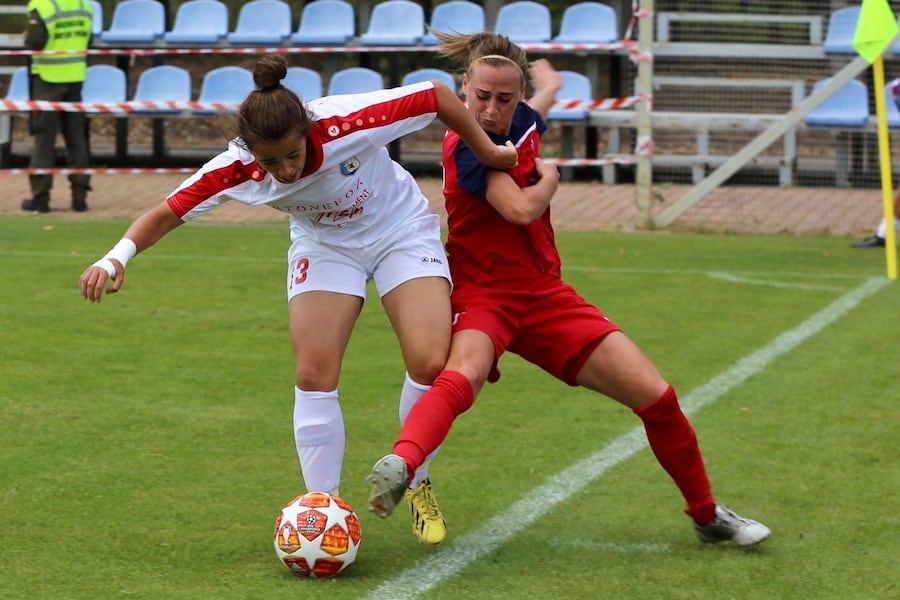 – In my opinion, there is a problem in Belarusian women's football. Not every city has a girls' football school. What is the situation in Russia?
"There is also a global problem with this in Russia. Very few schools, where from early childhood you can bring a girl and that she could only study with girls. Probably, and here the matter goes into the financial plane. Although it does not have to be for girls only. At a young age, these can be mixed groups, and at a certain age should be divided groups into girls and boys.
Did you have to study in the same group as the boys?
No, I didn't have to. But I played against them in tournaments, our coaches organized us meeting with the boys. I think it's a good move. It is possible that thanks to such meetings we grew faster.
"I managed to play against the girls.
– And what can you say about women's football?
– I will say frankly that it is not very easy to play against girls. Yes, they are inferior in speed qualities. But they are mostly very disciplined and finish their moments to the end.
" I absolutely agree with you on this issue.
– You had to face Ksenia Kovalenko in the same team. She is known primarily for being a very beautiful girl, but at the same time a good football player. But, for most viewers, she's still a sex symbol. Do you think it is right that external data comes to the fore and football goes into the background? And this is even though Ksenia has football prowess at a high level.
Yes, I know Ksenia Kovalenko. It's probably the media's merit. Because every second football player is a beautiful and very effective girl. And the merit of Ksenia is that she uses such PR. On the other hand, it is difficult to imagine that a footballer would be promoted to sit on the bench.
– In the Russian league you faced in face-to-face matches with Ekaterina Tyryshkina, a football player who plays in the French league, but is not called up to the national team. Why do you think she is not called up to the national team? And was it hard for you to play face-to-face confrontations against her?
-This is the most difficult question that I have often been asked. This question cannot be answered, because the coaches do not explain the reasons why the player is not involved in the national team. The coach's list includes 100-200 girls and it is difficult to say why these 20 football players he chooses. And all the girls who are on the extended list, consistently play, win cups or medals, but the choice is limited. Here, perhaps, you can compare the coach with the artist. It is known that all artists see in their own way. As for Catherine, she is a good funny girl. Very technical and with a set blow. To be honest, I do not remember our confrontations in face-to-face meetings, as it was quite a long time ago.
– We have the situation with the majority of the Belarusian national team's players from Minsk. Most Russian football players come from peripheral cities. What's this all about?
– Probably, it is connected with coaches who notice children from small towns. For this they are very grateful. Not everyone has the opportunity to go somewhere to be noticed. It is necessary to develop such factors as talent, hard work and luck. There are thousands of talented players from peripheral cities, and only a few are knocked out of them.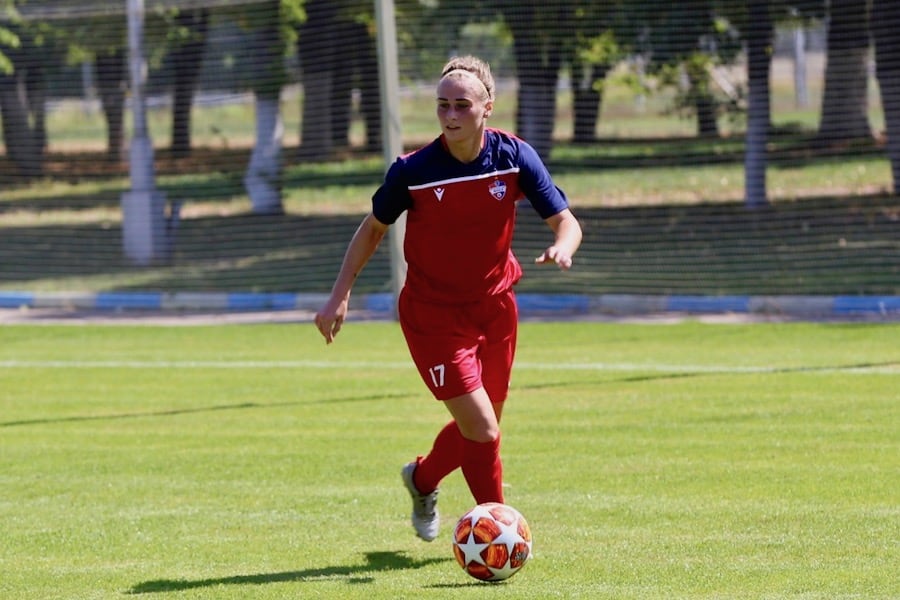 – Now you are playing in Belarus. You have moved to a weaker championship, but you have more opportunities to play in European competitions. Is it a rise or a downgrade for you? Or a possible springboard to Europe?
– For myself, I have never considered the option with a demotion. In any case, for me it is a springboard to something new. If I have moved to a weaker championship, it does not mean that my individual class of player has become lower. This does not affect the level of the player. I also have personal factors, family reasons that make me here. But that doesn't change the fact that I'm not going anywhere further.
" In recent years, two strong teams have broken up: "University" and "Isloch." What do you think are the reasons?
"It is no secret that the main factor of such outcomes lies in financing. Such a sad outcome is not rare for men's teams.
– Yes, this happens in men's football. Last year Minsk Torpedo disappeared from the football card of Belarus, And Mogilv was left without a lot of football. But with all due respect to these teams, they did not count on prizes. And the women's teams listed by me competed for the highest places and won the cup of the country. Let's just say it's a shame.
"Of course it's a shame. But we need to think to people why this is happening and why there is no support to support these teams. They played well not only inside the country, but also outside it. This development is a wake-up call that needs to be heeded.
– Last season Minsk was among the top 16 teams in Europe. Let's take a home game against Barcelona. The match was played on a weekday at 4 p.m., and it was not broadcast. Is this a consequence of inattention to women's football?
– Of course, it is a pity that we are not paid close attention. This situation certainly upsets us.
– But the match against Barcelona in any case had to show.
"I think that such things should be shown. It could be a big celebration for spectators who could watch the match on TV.
"But, nevertheless, in my opinion, there is more attention to Minsk. Players of your team were invited to shoot in the issue of tut.by, Alexander Ivulin made a video from the match against Barcelona, YouTubers "Balabol" made a release about your team. Do you feel that the attention to your team has increased?
"To be honest, it's not very good. Because it happens not regularly, but only on big holidays. This is the beginning of the championship. It is possible that because of the situation with the virus decided to remember us.
– This year there was a women's Minsk Dynamo. How important will meetings with this team be for you?
– Minsk Dynamo is a direct competitor for us. Therefore, our meetings will be principled. We are very much looking forward to these meetings, I want to know what this new team is. What her style is and what she is. They have a lot of applications, but we haven't played a single friendly game with this team yet.
– It is good that we will have another Minsk derby.
Yes, that's good. And it's worth it to at least come to this match.
Let's fantasize a little bit. What do you think football would look like if the team was mixed. Let's say six men and five women. What would it look like, in your opinion?
"It's fun, of course. But if we consider it at a professional level, it is, of course, incompatible. Boys would play their own way, and girls would play their own way, too. The boy would have run, maybe would have gone with the girl and gone to the other. But that would be at least fun.
– In 2017 in Paris, Luxembourg played on zero with France, which six months later won the uniform. Italy and Holland did not make it to that uniform. Could similar cases be in women's football?
– I think that such variations are possible in women's football. All the championships, all the women's tournaments are so unpredictable that you can expect anything. The format of the Champions League is changing. There should be a lot more sensations with him.
The final question. At the Universiade 2017 you took bronze as part of the Russian team. What kind of tournament is this? And what impressions did you get from him?
– This is a super tournament, which takes place in the entourage of the Olympic Games. The emotions I received are indescribable. They can only be felt. When all the national teams play, it is very interesting and I was breathtaking. I don't mind taking part in this competition again.
According to tribuna.com website