The master of sports of the Republic of Belarus of international class, defender of our women's team Anna Kozyupa spoke frankly about her sporting path, memorable matches and goals for the season.
– Most girls start playing professionally at the age of 15-16. For a guy to get into the team at 18 is a great achievement. What do you think is the reason for the fact that girls start playing professionally at an early age?
– Perhaps this is due to the fact that we have less competition. If girls are constantly engaged, they are usually talented. And if the girl has talent, she can immediately be taken into the adult team. Plus we don't have many people involved. And it is better to attract a young football player at once, so that she gained experience from more experienced comrades.
– A number of football players come from Minsk. Is it more difficult to break through to football players who are not from the capital?
– In fact, we have a lot of football players in the team who are not from the capital. We have football players from Brest, Lida, Homel, Mogilov and Mozyr. Of course, if you are a young girl, it will be easier to show yourself in Minsk, because there are many more clubs in it. But if a football player from another city, the coaches notice them and invite them to the capital. Our country is small, so our talents do not disappear. Coaches follow the competition among the younger ages. As they say, talent is everywhere.
– The Brest School of Women's Football has recently brought up a number of good football players. Anna Pilipenko, Lyubov Gudchenko, Tatiana Senyuta came out of your city as class masters. At the expense of what are strong football players constantly coming out of Brest?
– We also have Alina Vasilyeva and Liana Miroshnichenko. When I started, there was a strong team in Brest. It's worth noting that there's always been a lot of girls in my town who can be seen. This is further proof that you can get out of any city.
– After "Victoria" you had a Polish stage in your life. Were you thinking that in Poland you will finish with football?
"Such thoughts were used when I was still in school. I wanted to finish my football and immerse myself in my studies. I had coach Oleg Sechenok. I told him about wanting to leave football, laid out all the facts on the shelves. To which he replied: "I don't want to hear it again. Come to training tomorrow." Of course, I had some thoughts, but football does not let go.
"It's good that it happened. Today you are the strongest defender in Belarus, one of the strongest in Eastern Europe.
– However, I already play at the club. Last year the coach put me in this position.
"You must have been happy.
" To be honest, yes. I've got more opportunities to connect. Let's just say that more untied hands.
– I will say frankly that you have a good physique and you can play everywhere except the goalkeeper, of course.
– Yes, I think I've played everywhere in my career. But I'm definitely not going to go to the gate!
– I think that Natalia Voskobovich is glad that she has one less competitor.
– So be it – let's leave Natalia Voskobovich on the gate…
– In Poland, you played for the Prague team. Tell us what kind of team it is. And what is the level of women's Polish football?
– It's more of an amateur team. She didn't play in The Extraclass, but in the division below. We had a good team, and now it is. A lot of technical girls and they always lacked a little to go out to the tower. They lacked a bit of professionalism because they only played for fun. To miss training was not critical, and often they could not even come to the games. For them, football is only a hobby. I remember that when I was studying in Poland, I noticed two little girls. Now they play in the national team of Poland, defending the colors of "Gurnik". But to develop at a good level, they had to leave Warsaw.
It's an interesting situation. We have all the strong clubs spread out in the capital, and they do not have any club in the elite.
– Yes, this is an interesting situation. In Warsaw, girls go very well to football, but to develop, they necessarily need to leave the capital. I still can't understand how there is no professional club in Warsaw.
– Knowing that there are two divisions in the Polish league, it is probably foolish to ask about the level of their football.
"It's just that there are more people who are interested in it. In my team, people played without salaries, with simple enthusiasm. They would compete in our league.
– For sure, they would strengthen the conditional "Bobruychanka".
"I think so. They would have come to court for many teams in our league.
– What did the Polish stage of your career give you in the game plan?
– It's hard to talk about the game plan. Rather, more in everyday life. I looked at the mentality and the lives of other people. Thinking is changing.
Is it hard to adapt to this life?
-It's not hard to adapt in general. Especially if you're not alone, but with someone went. Plus you more or less know the language.
– Was the language barrier built?
– At first it was very hard. Then I got used to it and it became much easier to communicate.
– Tell us what is the difference between the Belarusians and the Belarusians?
"I think they are more liberated. It is possible that more open. Somewhere even more nifigist. Our girls are more dependent on different opinions, quieter and quieter.
"After Poland, you have returned to your homeland. Did you immediately feel that you had switched to a promotion?
Yes, of course. I felt it right away. Everything was professional in Minsk. Constant training, contract, you have no right to miss training. Of course, this is not comparable to the Polish amateur team. Professional training, theory, tactics, masseurs, role coaches, Champions League.
– Previously you played in attacking positions, and in Minsk you had to play a defender. Did you get the transition hard?
– The transition was not difficult for me. When I was young, I played in all positions. It was easy for me to play defense. The only thing that was boring. Most often I played in front, I always like to give and score. And I loved it.
– In defense sometimes really boring. So much so that even one big skirmish took place without you.
"Yes, it was like that… Our girls played with Bulgaria – it was in the youth team. We won the first game. The second game was under sued by the opponents. We were on our nerves, then there was an interesting moment. We attack, and the opponent sneaks up behind and beats our girl on the legs, but the referee fixes the violation on our side. And ours exploded! Someone started to shove someone, someone even hit someone. I ran, though I can't imagine that I could fight, but nevertheless I ran to stand up for the girls, but while I ran, the judge had already separated us.
– You had an attempt to continue your career in the United States. How did you decide to take such a step?
– In the U.S. at the space level, student sports are developed. I wanted to go to university. And when you play for university, you are given great privileges for players. Provide housing, increase scholarships, learning becomes easier, as a lot of time is spent on training. I knew so many people were doing it. I've always wanted to try my hand abroad. Then it turned out that, having a professional contract, you can not play for the university team. And the road there was closed.
– University sport is there at a level. It happens that people immediately after university sports become stars of the North American leagues.
-The level there is the strongest. There are 300 teams in one league alone. There's a second league. The best players are watched by the most titled coaches. A man does not have time to finish the university, so he is already dismantled with his hands and feet. I know that there are a lot of American women who play sports professionally just because it helps them get a good education.
– Have you reached conclusions about women's football in the United States?
– When I kept in shape, I saw a lot of girls-footballers. They played football and also competed 7-for-7. According to the conditions, the team must have 2-3 girls. Mixed competitions in the U.S. are not uncommon. There's a lot more girls out there who are into football. Our parents would say, "Football is not a women's sport. You're a girl, what football is you." And if they want to go to the juicer, it's cool.
– There are no girls even afraid to send girls to hockey.
" They will go anywhere, the main thing is desire. This mentality is a little incomprehensible: "Don't go there, don't go here, don't do anything."
– I asked Masha about mixed teams recently. So it turns out that in the U.S. – it was.
"They take it for granted. They're interested in it, and they enjoy it. I saw a number of girls come in boots. I remember my life and understand that this development would not be real.
– In your career there was a season in the RGUOR. For you it turned out to be ambiguous. What do you think didn't work out?
It's hard to say. It's just that after Minsk, everything wasn't so professionally adjusted in the RGUOR. It was difficult for me, where professionalism was a little lower than before. But in general, I will not say that the season was bad. The girls were all young, and we took second place, losing the championship only to Minsk. We also played in the cup final. I will say frankly that it was extremely difficult to fight minsk.
" Then your second coming to Minsk took place. The club dominates not only in Belarus, but also among the top 16 teams in Europe. What do you think makes the team successful on the international stage?
– Last year was the most successful and outstanding in the history of Minsk. This is the season for me. We changed the coaching staff, the scheme of the game, we began to think differently and play. It is worth noting that Mrs. Luck was on our side. It's like it was our year. In the league we won absolutely all the matches, at the PL we went smoothly until we met with Barcelona. Last year it was as if everything was for us – all we had to do was play!
– Minsk has become more focused. Players of your team were invited to shoot in the issue of tut.by, Alexander Ivulin shot a video from the match against Barcelona, YouTubers"Balabol" filmed a issue about your team. And you became the heroine of the "Training Day" program. Do you feel that the attention to your team has increased?
"Yes, it feels like it. It was felt after we entered the top 16 European teams. It is worth noting that women's football is becoming more popular. It is more shown and covered in the media, shown on TV. In fact, that's the way it should be. If you move like that, people will learn more about women's football. They will know that it is, develops that if girls want to play football, then it is normal. It is very nice that women's football has become more interested.
– Last season you played 21 matches and scored 7 goals. Tell me, how did you do it?
"I don't know. As I was put a prop, I think, "Oh, you can go forward, and I went to score."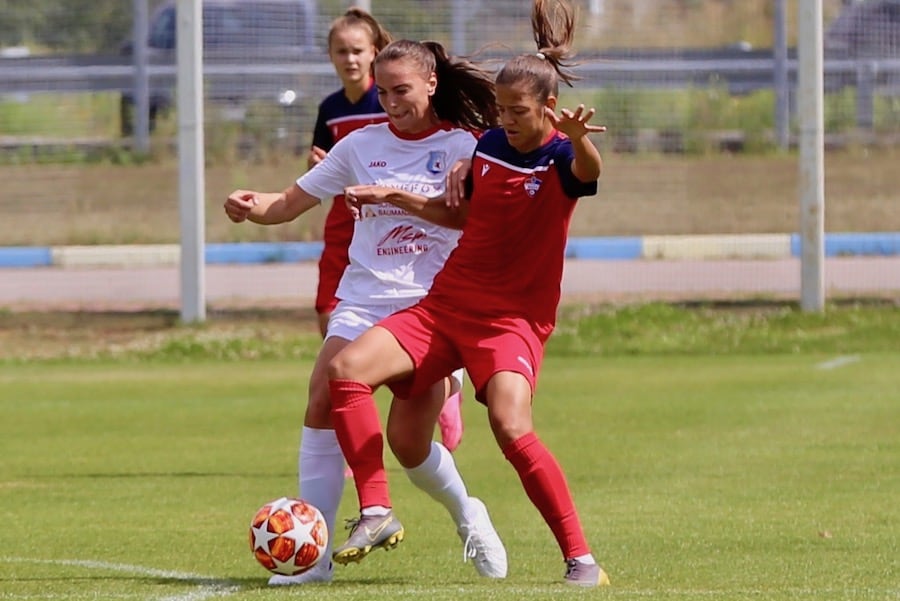 – If you were in the men's championship, you would be in the top 5 scorers.
– We are the strongest in the league. It's possible that it has something to do with it.
– But the conditional Dragun and Gordeichuk for the season so much may not score.
– In the past, it's just the team and I have the stars. What for me, that for the team – everything was positive.
– This year there was a women's Minsk Dynamo. How important will meetings with this team be for you?
– Of course, this is fundamental, as they claim the title of champion. They want to beat us. We're going to do everything we can to protect this title. To be honest, I am glad that Dinamo Minsk has appeared. It is very good that there are teams that will need to be tuned in. After all, competition is the key to development.
"Imagine a story like this. Your principled match against Dynamo. Full stands. Nastia Linnik scores and she doesn't celebrate a goal on purpose.
"It would be great if it were. Well, except that Nastya scored us. But we can only dream of full stands. Even the amateur team from Poland went more than the best team of Belarus. There are problems with attendance in men's football. I don't know why people don't like us, don't go, don't get sick.
– I watched your joint video with Anastasia Harlanova. She said that the story was told by Anton Antonovich – a tough man with tattoos. Let's take a tour of women's football.
"Let's…
– In what year was the first World Cup played in women's football?
"I have no idea… I don't know any history at all… No school, no football, no… So what year?
– In 1991.
"I'll know.
– Let's go through the history of domestic football to make it easier for you.
" If it helps, of course…
"Of course it will. Which team is not from the capital left one step away from your achievement in the Pl?
"This is the University of Vitebsk.
-You hit the nail on the head. You've done a good job of doing a satisfactory job.
"It's good…
– In 2016, you made a parachute jump. How and why did you decide to do it?
– I always want to try what I haven't tried. I started going through what I tried and what wasn't. And someone I knew suggested I jump with a parachute. I think: why not? I had this idea when I was a kid watching TV. So we got together with friends and made this cherished leap.
– And what did you think before the jump?
– To be honest, I didn't think about the upcoming jump at all. You just have no idea what's going to happen. You say to yourself, "You'll find out in a week." It wasn't scary to get on the plane. And then it's too late. It was scary when the door on the plane opens and you realize that you have to go and jump. And until that time it was not scary at all.
– You have the psychology of a real athlete here. We approached this situation with a cold head.
"As they say, with a cold head and a hot heart…
– It is also known that you are a vegetarian. How and why did you switch to such food?
– First of all, I have studied information about meat for a long time. I know there's a lot of good and harmful things in it. Secondly, I am familiar with vegan athletes who achieved high results. And let a lot of debate about the compatibility of sports and vegetarianism, I hold the position that without meat can exist not only to the average person, but also to the athlete. For example, it does not bother me, and even helps. Yes, if I felt worse, I wouldn't be vegetarian. Let's put it this way: I tried it, I liked it, and I haven't eat meat for about 3 years.
– Did you happen to come across an article that it is better to stick to vegetarianism?
– Yes, initially it was accidental. I was a hardened meat eater five years ago. Without meat, I couldn't imagine eating. I've come across people in my life who didn't eat meat. I've read a number of books, articles on the subject, watched video bloggers. That's how gradually I came to vegetarianism.
– Anna, I saw that you smile quite often, and it's very cool. It is you who is optimistic in and of themselves, or life abroad has left such an imprint on you?
"I think I'm so optimistic in myself. I come from the sunny city of Brest. I'm an optimist in life, although my mother sometimes calls me a no-goer… I'm calm about everything and I think only of the good things.
– You have already reached considerable heights in football. What is your immediate goal?
– At the moment I have team goals. I want us to repeat last year's result in the league and the Champions League.
According to the https://by.tribuna.com website