The goalkeeper of the mini-football team "Minsk" Kirill Podobed started his sports career not in football, but in the end he was in it. In an interview with our website Kirill told about his career in the club and the national team, and also answered a couple of questions from his personal life.
Kirill Podobed's dossier:
Born: 6 November 2002 (17 years)
Position: goalkeeper
Number: 16
Hometown: Minsk
The pupil Torpedo Minsk
– Tell us about the beginning of your football journey. It seems that he is not quite ordinary.
That's right. Until I was 14 years old, I was engaged in martial arts – karate and judo. But I have a football family: my father, grandfather, older and younger brother football players, because of this since childhood there was a great love for this sport. At the age of 14 I decided: this is what I really love and what I want to do. Then I got into my first team – Torpedo Minsk. Having been working for a month, I realized that because of the short growth and absence of any goalkeeper school in big football it will be difficult for me. Around the same time, my father came across an ad on the Internet about a recruitment to the "Stalitsa-Uni" academy and offered me to try my hand at mini-football. So I got to my first coach on the "mini" – Igor Fedorinchik.
How did you get to Minsk?
– Last summer the youth team had a friendly tournament in Latvia, immediately after its end Alexander Chernik offered me to join Minsk. I didn't think for a long time and agreed, because at that time I had been working under his leadership at Stalitsa-Uni for two years. I can say that I owe him almost everything that I had in mini-football, so there was no point in denying it.
– You haven't played in the big leagues before. Was it hard for you to be on the team for the first time?
Yes, I do. Loads and requirements have changed significantly in comparison with the youth level, but in training I always try to give my best. And the thought of being able to play in the big leagues gave even more motivation to work.
– You, like most of the minsk players, have not been spared by the youth team. What are your impressions and the experience of the goalkeeper? Were the expectations justified?
– My first challenge came to away matches against Moldova. I remember the day when Alexander called me and told me to collect documents to call the national team – I was in the seventh heaven with happiness. I got acquainted with the majority of the guys from Minsk. As for the experience, there I have acquired many playing and human qualities, for which I want to say a huge thank you to the team and the coaching staff. My expectations have not yet been fully met, but I still have time to prove everything to everyone.
– Many field players talk about the fact that they remember the match, where they score the winning goal, bringing the team forward. And which of the matches of the national team do you remember?
– The second game against Moldova in Chisinau was a full debut for me in the national team. After a very unpleasant defeat in the first meeting, we wanted to show what we really stand for. As a result, the match ended with a 4:3 victory, and most of all I remember the 10-meter repulsed by me. At that moment I was overwhelmed with emotions, perhaps even too much (laughs).
– You are almost permanent goalkeeper of Minsk-Uni. Does it give you any experience – or do you like to play in the big leagues?
– Definitely, I feel that with each game I gain experience and become stronger regardless of the result. As for the big leagues, I'm ready to cling and fight for every chance to prove myself.
– You are one of the most emotional players in the team. Is it a kind of adrenaline rush or motivation for partners?
It's more like 50-50. It's very hard to contain my emotions on the field, so I still have to learn from it.
Why did you choose number 16? What's so special about it?
– It was my first number in the national team, because I got into it at the age of 16. Playing under this number, I have achieved the greatest success in mini-football. I thought I had to have it on my back. It may sound strange, but it gives me confidence. Also at No.16 my younger brother also plays – apparently, it also influenced my choice.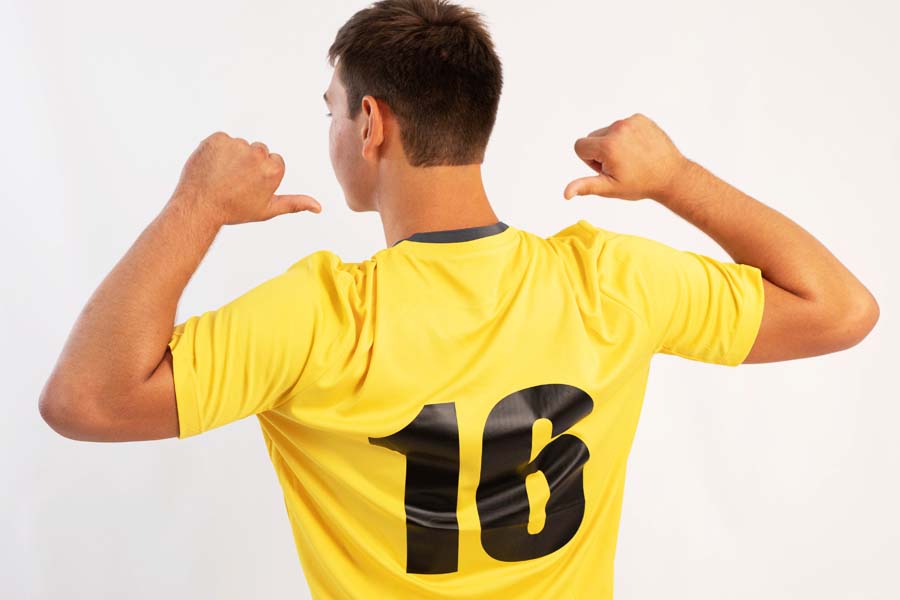 What do your teammates call you?
Kirya, Jackie, Chinese.
– Do you think you are the best in the team?
– We don't have the best or the worst, we're all equal.
– Who is the funniesn person in the team?
– All the guys in the team are cheerful and friendly, but I want to celebrate Max Matyukevich. Someone, and this red-haired kid can cheer anyone up.
– Tell us about football goals for the next couple of years.
– The most important thing at the moment is the victories against Minsk in all the tournaments.
Let's talk a little bit about life. Where do you study? Is it a choice of profession – or is this study just for a tick?
– I am studying in the Minsk Lyceum of woodworking and transport service number 14 for a locksmith for repairing road-building machines and tractors. Also, my specialty gives me two driving categories – C and F. Sport still comes first, but I try not to run my studies.
How do you spend your free time from training?
– Most often I go out with friends, but sometimes I can sit at home and play PS4.
Where do you like to rest the most?
Outdoors and in the company of friends.
What are you listening to?
Everything I like. From Russian rap to pop music.
Tell me about your favorite movies. What advice would you give to our fans?
– The most favorites are: "In Bruges", "Lock, Stock and Two Smoking Barrels", "Mean Machine". That's what I'd advise to watch.
– Your perfect day off…
– With friends and with the ball in his legs.
– Without what things, you'll never leave the house?
– Keys, phone, headphones and wallet.
Blitz poll
A book or a film?
The film.
Basketball or hockey?
Hockey.
Favourite brand of car?
– Mercedes.
Favourite dish?
Everything my mother made.
Without what life doesn't make sense?
No risk.
Are you superstitious?
In part.
In your understanding, who is a happy person?
The one that people close to him believe in.
What if it's not football?
I would have been the head of the housing department :).