Today's match between Minsk and Dynamo BGUFC in Belarusian women's football stands alone, although this is the first meeting of the teams in history.
It would seem that the seven-time champion of the country should play with the debutants of the championship, what can be an intriguing moment? But, all those who know firsthand women's football, without hesitation immediately answer that there are two contenders for the title of the current season and, accordingly, a ticket to the UEFA Champions League.
Of course, this is only the first face-to-face confrontation of the teams this year, there will be two more matches ahead, but who will take three points in the first game, will make a certain point for the future.
Minsk started the game in the following line-up: Minsk: 1-Natalia Voskobovich, 4-Anastasia Harlanova, 9-Emuej Ogbayagbeha, 10-Anna Kozyupa, 15-Ksenia Kubicny, 17-Maria Galai, 23-Love Shmatko, 30-Alvina Nyolle, 88-Nadezhda Cisse, 93-Anastasia Pobebailo, 97-Tamila Himich.
From the first seconds on the field began a stubborn struggle for the ball and territorial advantage on the field. For the first fifteen minutes, the opponents on the counter courses were looking for happiness at someone else's gate.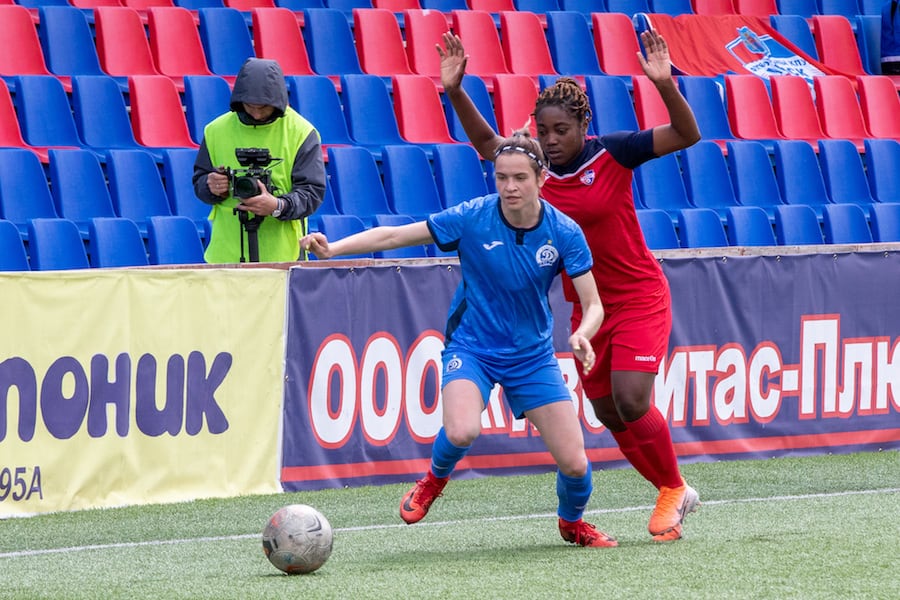 It was the first to smile at Dynamo-BGUFC in the 17th minute, when Karina Olhowick scored a precise shot after the transfer of the legionnaire from Burkina Faso Simpore Salimat.
On her precise strike, the Red-Blues were able to respond only in the second half. In the 51st minute, the Nigerian forward of Minsk, Emuej Ogbayabbeha, distinguished himself.
In the second half of the meeting there was still an uncompromising struggle on the pitch. Our team failed to realize a lot of good chances. Unfortunately, luck that day was not our side.
The visitors managed to score the second goal in the 63rd minute only with the help of the captain of Minsk, Lyubov Shmatko, who unsuccessfully knocked the ball into his own goal after a shot into the penalty area.
Minsk suffered its first defeat in the championship. Vyacheslav Grigorov's team will play their next match in Bobruisk on May 31.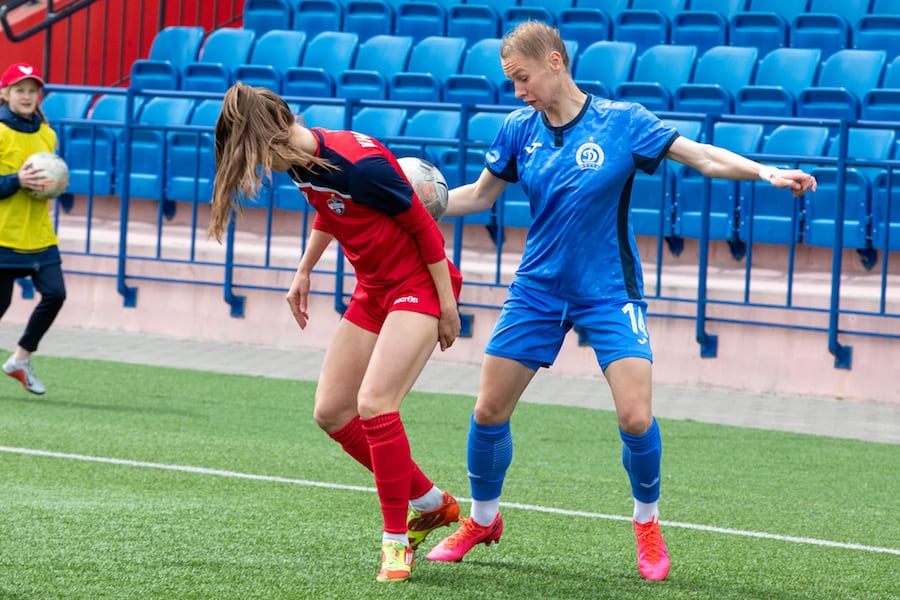 Photo: Minsk FC press service.